MacBook Pro 13-inch without Touch Bar Review 2017
Recently I updated to the MacBook Pro 13-inch without Touch Bar and TouchID, this is the lower end model in the MacBook Pro lineup with 2 Thunderbolt 3 (or USB-C) ports released in October 2016, model number A1708, MacBook Pro 13, 1.
In 2017 this model had a speed bump and features more prominently on the sales page for MacBook Pro, here is my review.
Primarily I use an iMac 2011, 512GB disk and 16GB RAM for work and have had a MacBook 13″ Aluminum late 2008 model to use as the laptop which has lasted for nine years but due to the trackpad failing and general wear and tear it has seen better days and it is time for an upgrade.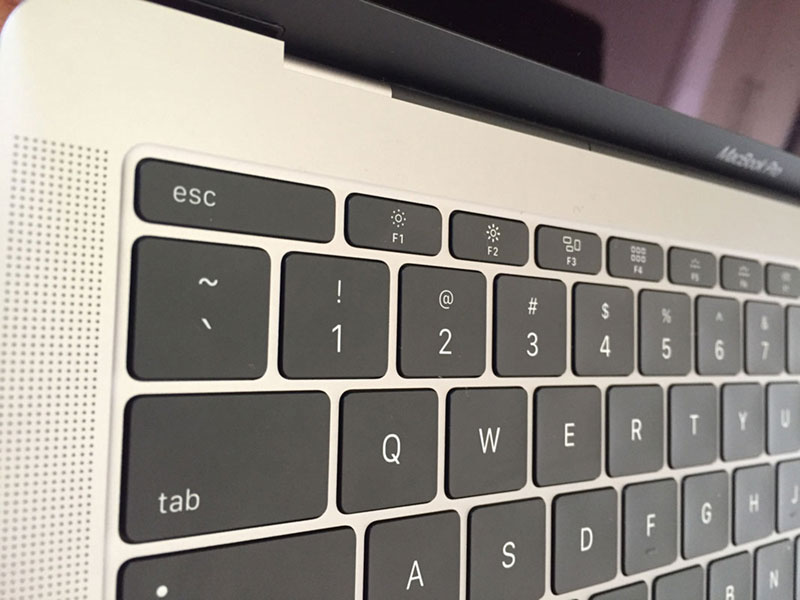 Since I am going to be doing more travel in the near future I needed something that is just as capable as my desktop computer and the latest MacBook Pro lineup from 2016 was going to be from what I picked which I also considered the Touch Bar versions as well as the still available 2015 MacBook Pro Models with the regular ports.
13″ v 15″ Screen Size
Size wise I have used all variants before 13″, 15″ and 17″ over the years, but since I used a laptop less I am happy using the 13″ model as when I am going to use it for an extended period of time for work I attach a 2nd larger monitor to it anyway.
The size is very compact and convenient and the new 13″ model screen is something else it really is a pleasure to work with, the retina sharpness and clarity is top notch with a resolution of 2560×1600, anyway it definitely looks bigger than it is. I am sure the 15″ is equally as impressive.
Touch Bar and Touch ID
I have tested and used the Touch Bar and Touch ID in the Apple store on the new MacBook Pro models, they are a nice touch and certainly a novelty of the latest release but I found it's just not for me, I thought long and hard about this and just thought after a while it would lose it's appeal for me.
The Apple apps make use of the Touch Bar in particular in photo and video usage in Photos and Final Cut Pro so if you are a heavy user of those then it might make sense. For non-Apple apps that will be up to the software developers to enable functionality on the Touch Bar, so time will tell on the adoption rate of the new interface.
What's on the TouchBar is also controllable on the screen so at this point in time it's not going to change my life – as others have said it looks like a work in progress, so should be interesting when the 2018 MacBook Pro models are released and what changes have been applied to the 2nd generation TouchBar. (The 2017 MacBook Pro with TouchBar ID was no different).
The Touch ID seems like a good idea in particular for entering your password to get by admin screens without having to continually type passwords.
RAM and Hard Disk Space
Both the RAM and Hard Disk space on the 2016/2017 MacBook Pro are not upgradeable after purchase but can be configured with a higher spec when ordering online. The base model comes with 8GB RAM and 128GB/256GB SSD storage, I would strongly advise anyone who is going to do some moderate work on it to future proof the device and skip the 128G and at least go with the 256GB and even better upgrade to the 512GB SSD storage – in my particular case since also I was not getting the Touch Bar so financially it makes sense to boost the lower end spec to make a decent model out of it.
Both models start with 8GB RAM, that is ok for a lost of users but if you a moderate to heavy user and use a video/photo app or use multiple apps concurrently I would also suggest configuring the RAM to 16GB.
RAM and Hard Disk space are always things that people run out of.
The memory on the 2016 MacBook Pro without touch bar is marginally slower than the one with 1866MHz of LPDDR3 onboard memory versus 2133MHz, for the 2017 models they all use 2133MHz.
The SSD read/write speed is the same on all models – which is fast!
CPU
The CPU on the MacBook Pro without Touch Bar is slower than it's with Touch Bar counterpart, the 2017 model 2.3GHz dual-core Intel Core i5 v 3.1GHz dual-core Intel Core i5, and have a slightly higher Turbo Boost 3.6GHz v 3.5GHz and both have 4MB shared L3 cache. The processor on this model can also be upgraded to 2.5GHz dual-core Intel Core i7.
All the processors in the 2017 models are 7th generation Kaby Lake, the 2016 models were powered by the sth generation Skylake Intel core line which are both faster than the 2015 releases.
I can't really compare the 2.3GHz v 3.1GHz processors but I do know that the 2.3GHz is very fast and outperforms my current iMac model easily.
The Ports Issue
Port wise on the new MacBooks – as we know all ports have been terminated apart from the USB-C or what Apple calls Thunderbolt 3, 2 ports in the 2.3GHz model and 4 ports in the TouchBar ID model.
Which ever way you look at it you will need a dongle or 2 to get buy with the current range of peripherals and lack of available USB-C ones – so having just 2 doesn't phase me as I have purchased the USB-C Multiport VGA Adapter which has a 3 port hub with VGA, USB and USB-C ports (also available with DVI instead of VGA) , one for my extra monitor when I need, one for a regular USB device which is 99.9% probable you'll still need for a while.
The other issue is you'll need a USB-C to Lightning Cable to connect an iPhone – which is something I find I have plugged in more than anything else – you don't need to buy one necessarily if you have the above mentioned Multiport adapter.
USB-C is also used to charge the MacBook Pro replacing the previous MagSafe charger, this is a step backward for me at the moment – the MagSafe easily disconnects when someone yanks your cable whereas the USB-C connection looks likely to take the MacBook with it if pulled from a height.
Headphone port is still present (thank you for keeping that one!)
If you are a heavy USB and general peripherals user and have multiple things hanging off the laptop you may be better served buying 13-inch 2015 Macbook Pro model still available from Apple.
Color Finish
Silver or Space Grey? Personal preference really – Space Grey hands down!
Cost
No doubt about it, the MacBook Pro is an expensive product which makes it an important careful purchase, my take is that it needs to last a decent amount of time to get a good return on your investment, maybe not as long as my 2008 MacBook but on the path of a few years and that's one thing Apple does well is make durable products.
Based on the US Apple Store the 2.3GHZ MacBook Pro without TouchBar is $1899 with 16 GB RAM and 512GB SSD whereas the TouchBar version also with 16GB RAM and 512GB SSD will set you back $2199.
Everything else is pretty much the same in the models, the new keyboard has a nice feel to it, the Force Touch Trackpad is very spacious to work with, the design is sleek and weight minimal as well as an amazing screen.
The battery is better on the non-Touch Bar version most probably because it doesn't have to power the Touch Bar & ID.
I am pleased with the model release and the purchase I have made and have enjoyed working on it so far and am looking forward working on it full time when I take a trip in the not too distant future.
Regards the 15″ models, there is no choice here, as they only ship with the Touch Bar and Touch ID.
I look forward to seeing the whats new in the 2018 MacBook Pros.